It's that time of year again – winter – and we know what that means: the oven is on more often than not. It can be hard to find fresh, new ideas for dinner and you're tired of the same old recipes. This spaghetti squash recipe roundup is just for you!
10 Spaghetti Squash Recipes to Try
1. Asian Peanut Spaghetti Squash Stir-Fry
This Asian Peanut Spaghetti Squash Stir-Fry is packed with flavor and so easy to make! It's low carb, healthy, and full of vegetables. You can easily turn this into a spaghetti squash pad thai by adding rice noodles or brown rice. If you want more veggies in your stir fry, add some broccoli or snap peas. The possibilities are endless!
Check it here.
2. Veggie-Loaded Breakfast Flatbread
We've got the perfect recipe for you. This veggie-loaded flatbread is made with whole wheat pitas and topped with roasted spaghetti squash, fresh tomatoes, sharp cheddar cheese, and an egg on top. It's the perfect easy brunch or breakfast recipe that will keep you full all morning long!
Check it here.
3. Creamy Baked Spaghetti Squash Casserole With Sausage And Tomato Cream Sauce
We all know that carbs are delicious, but they're also not great for our waistlines. If you want to eat a healthy dinner without sacrificing flavor, this spaghetti squash casserole is the perfect solution! It has all of the flavors and textures of your favorite baked spaghetti dish with none of the guilt. Plus it's gluten-free so everyone can enjoy it!
Check it here.
4. Spaghetti Squash Parmesan
This cheesy vegetarian spaghetti squash Parmesan is guaranteed to be a hit! It's full of flavor and it's healthy, too. You can feel good about serving this dish to your family because it's packed with veggies. Plus, there are no carbs in spaghetti squash so you won't have to worry about any guilt after eating this delicious meal.
Check it here.
5. Sheet Pan-Roasted Chicken With Potato Spaghetti Squash Puree
Sheet pan meals are the perfect way to cook up your favorite veggies and protein all in one dish, so you can have a delicious, nutritious meal on the table in under 30 minutes. This is an easy recipe that even beginner cooks can master with ease!
Check it here.
6. Easy Vegan Spaghetti Squash
Do you love pasta? But don't want to eat carbs or gluten? You can still enjoy a delicious bowl of spaghetti without the guilt. Our vegan spaghetti squash is packed with nutrients and fiber, so it will keep you full for hours. And it tastes just like real pasta!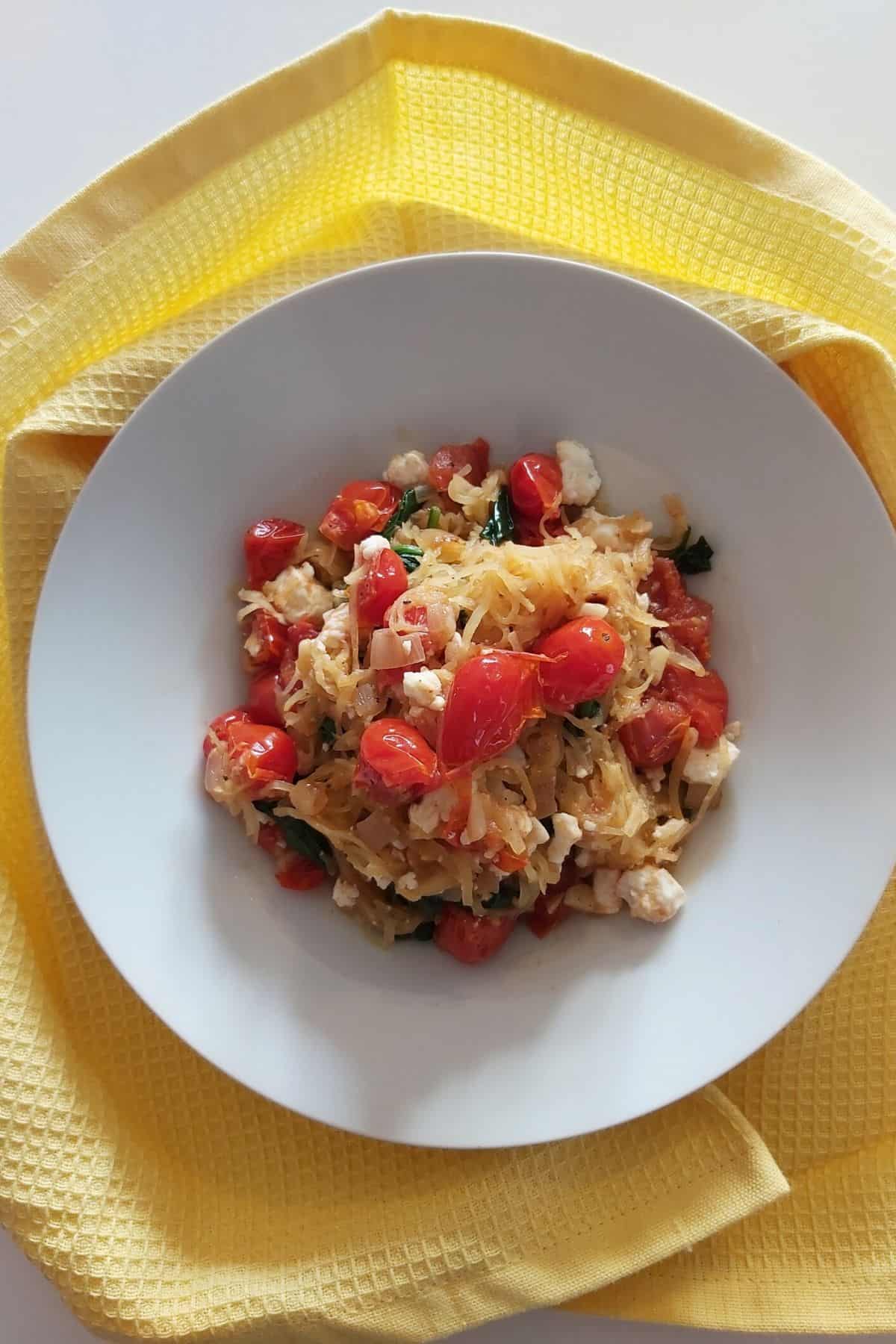 Check it here.
7. Vibrant Spaghetti Squash Bowl With Smoky Waffled Tofu
We've got the perfect solution. Our vibrant spaghetti squash bowl with smoky waffled tofu is packed with bright bold flavors and colors that will make every meal feel like an adventure! You can enjoy this delicious dish every day of the week without feeling weighed down by heavy ingredients or greasy sauces.
Check it here.
8. Skinny Spaghetti Squash Chicken Alfredo
This Skinny Spaghetti Squash Chicken Alfredo is a lower-carb, healthier dinner that tastes truly satisfying. It's made with spaghetti squash and chicken breast for a delicious meal that will leave you feeling full and satisfied.
Check it here.
9. Microwave Spaghetti Squash With Sage-Browned Butter And Toasted Walnuts
Do you love spaghetti squash? We do too! It's a healthy, gluten-free alternative to pasta that tastes delicious. But it can be hard to cook and the results are never consistent. That's why we created this recipe for microwaving spaghetti squash with browned butter and sage – so you can have perfectly cooked spaghetti squash every time without all the hassle of boiling or baking it in the oven.
Check it here.
10. Breakfast Spaghetti Squash
This Breakfast Spaghetti Squash is a great way to enjoy your favorite breakfast foods without the extra carbs. It's also an easy and healthy meal that will leave you feeling satisfied. You can even add some veggies to it if you want to get in some more nutrients.
Check it here.