It may seem like a crazy idea, but you can also enjoy a tasty and delicious zero-point weight watchers casserole for dinner. However, this may be a bit tricky without any type of guide. It is mainly because you have to be familiar with a wide variety of zero-point food items and ingredients.
Luckily, we also have recipes that you can enjoy for breakfast, lunch, or dinner that is worth zero points. You don't have to slave in the kitchen for hours just to make a meal that can please the family.
It is crucial to note that baking zero-point meals have a lot more restrictions compared to low-point dishes. This is mainly because we have to be extra careful when it comes to mixing together certain ingredients.
Maintaining zero points while cooking a full meal is not always that simple. That is probably why a lot of people prefer our weight watchers casserole recipes with low points. However, we can guide you through preparing a delicious casserole for you and your family. Whether it is worth one, two, or zero points, we will make sure that it is a meal you can enjoy.
In general, preparing some of our weight watchers casserole recipes can feel intimidating at first. If you are not used to cooking your own meals, you are going to have to learn one way or another. In my opinion, baking some fresh oven-made and diet-friendly casserole dishes is a good way to start.
Casseroles are also perfect items to put on your weekly dinner plans for people who have families to feed. I think we can all agree that just the thought of having to cook after a tiring day at work can already seem exhausting. However, our freestyle weight watchers recipes can help you prepare a healthy and delicious meal with ease.
6 Top Weight Watcher Casserole Recipes
1. Weight Watchers Chicken Taco Casserole
This Weight Watchers Chicken Taco Casserole is only 8 SmartPoints. Many of the ingredients (onion, bell pepper, salsa) are 0 point foods, meaning it will be more filling with fewer points! You can eat this delicious casserole and still lose weight. It's perfect for busy nights when you don't have time to cook an elaborate meal.
Get the recipe here
2. Weight Watchers Baked Turkey and Pasta Casserole
This Weight Watchers Baked Turkey and Pasta Casserole is the perfect solution to your comfort food cravings! It's packed with protein, veggies, and whole grains so it's healthy too. Plus it only takes 30 minutes to make – no slaving over a hot stove required! You can even prep this dish ahead of time by cooking the pasta in advance or freezing it before baking. Now that's what we call convenient!
Get the recipe here
3. Weight Watchers Friendly Cinnamon Roll Casserole
This Weight Watchers-friendly Cinnamon Roll Casserole is the perfect breakfast for any day of the week. It's so delicious, it's not "diet" tasting in any way! We like to make breakfast casseroles on the weekends, and of course for Christmas, too!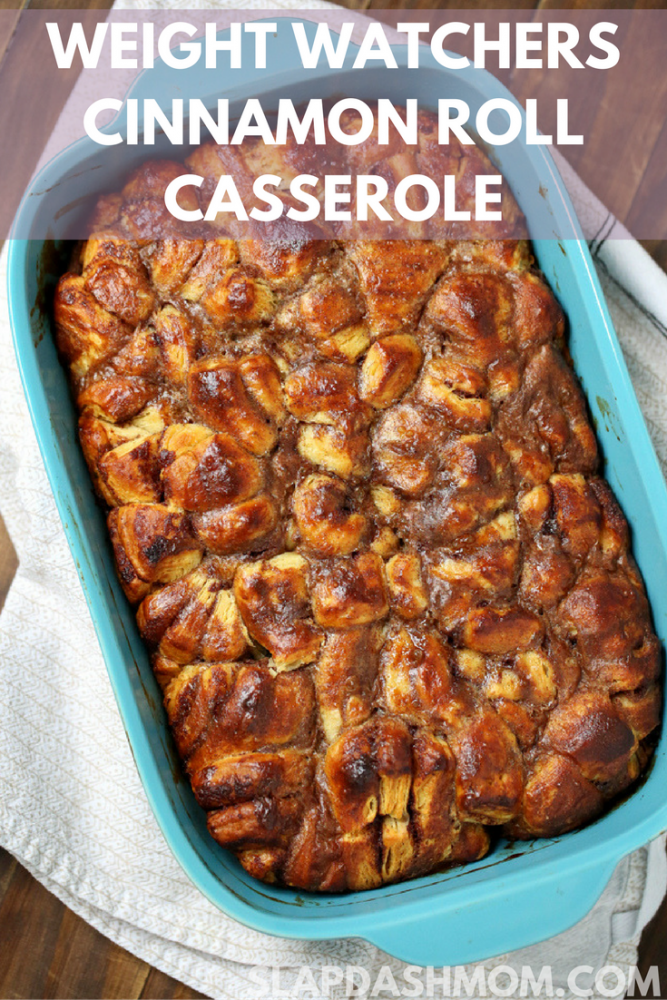 Get the recipe here
4. Sloppy Joe Casserole Recipe
This Sloppy Joe Casserole Recipe is an easy twist on traditional sloppy joes that's flavorful and delicious! The cheesy crust compliments the beefy tomato filling so well and makes for a quick and hearty weeknight dinner that the whole family will love.
Get the recipe here
5. Skinny Chicken Broccoli Casserole
This recipe is packed with healthy ingredients like chicken, broccoli, and mushrooms in a creamy & light sauce. It's so good you won't believe it's actually good for you! Your family will be begging for seconds of this delicious casserole.
Get the recipe here
6. Loaded Chicken and Potatoes Casserole
Loaded Chicken and Potatoes Casserole is the perfect recipe for those busy nights. With only 5 ingredients, this dish can be made in under 30 minutes! It's also full of flavor so you won't feel like you are eating bland food. You will love how simple it is to cook up this casserole with your family or friends!
Get the recipe here