Do you love the taste of warm, buttery cookies? Have you ever wanted to bake your own batch? If so, this blog post is for you! We will be discussing some recipes that are sure to please. You can use these recipes to make authentic cookies that taste like they were bought at a bakery.
Use These Recipes to Bake Your Own Authentic Cookies
1. Ghee Butter Shortbread Cookie Recipe
Ghee Butter Shortbread is the perfect treat for any time of day. It's sweet, but not too sweet and it's packed with all kinds of healthy ingredients like grass-fed butter and coconut oil. You won't believe how easy these are to make!
Check it here.
2. Maamoul Cookies
Maamoul Cookies are the perfect treat to make during Ramadan or Eid! They're also great for any occasion, and they'll impress your friends and family. You can even try different fillings such as a nut mixture filling etc. Even go for chocolate fillings and I think, that will be brilliant. These cookies are not limited to just Date filling though.
Check it here.
3. Sweet Potato Cookies
Do you love sweet potatoes? If so, then you will absolutely fall in love with my sweet potato cookies. They are made from scratch and have a soft and chewy texture; they are made with sweet potato, butter, and semolina along with other few ingredients then topped with a pecan for some crunchiness. They are absolutely amazing for breakfast or dessert; even kids love them so much, especially with their golden orange color.
Check it here.
4. Eggnog Cookies
These eggnog cookies are the perfect treat for the holidays. They have a tender texture and lovely eggnog, cinnamon, and nutmeg flavors. This is one of my favorite Christmas cookie recipes. It is easy to make and is always a big hit at holiday parties. It is also suitable for a cookie exchange.
Check it here.
5. Kue Putri Salju – Indonesian Snow White Butter Cookies
Have you ever tried Indonesian Snow White Butter Cookies? They're buttery, soft, and delicious. And they have a beautiful shape that makes them perfect for festive celebrations. You can serve them with hot tea or coffee to enjoy the taste of Indonesia any time of year. Or give them as gifts to your family and friends!
Check it here.
6. Soft And Fudgy Matcha Crinkle Cookies
Do you love matcha? If so, we have the perfect treat for you. Our soft and fudgy matcha crinkle cookies are a delicious combination of sweet and bitter that will leave your mouth watering! These crinkled treats are the perfect balance of sweet and bitter, making them the ideal holiday baking recipe. Plus, they're green – which makes them great for Christmas! You can even make these as a gift for friends or family members who love matcha as much as you do. They'll be impressed by your cooking skills (and how tasty they look)!
Check it here.
7. Pignoli Cookies – With Or Without Almond Paste!
Pignoli cookies are traditional Italian cookies that can be made with or without almond paste. They're incredibly easy to make and only have five ingredients! Plus, they're paleo-friendly so everyone can enjoy them. You won't find another recipe like this one on the internet today.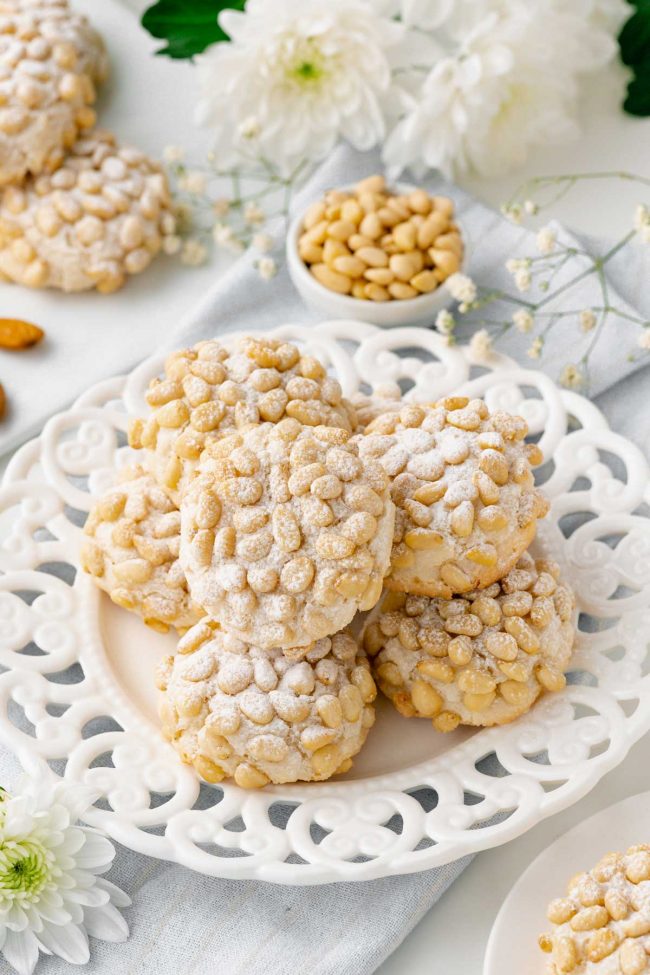 Check it here.
8. How To Make Classic Madeleines
Madeleines are a classic French pastry that has been around for centuries. They're perfect little cakes with a crispy shell and soft, moist center. And they're so easy to make! You can even use this recipe to make other delicious treats like chocolate chip cookies or lemon poppy seed muffins.
Check it here.
9. Mantecaditos
Do you love cookies? You're in luck! Mantecaditos are the perfect cookie for any occasion. They're easy to make, and they can be frozen so you can always have them on hand when guests come over or if you just need a little something sweet after dinner. Plus, they taste amazing!
Check it here.
10. Anise Pizzelle Recipe
you'll love my grandmother's anise pizzelle recipe. These thin and crispy cookies are a MUST for any holiday cookie tray. They pair perfectly with coffee or hot chocolate and make great gifts!
Check it here.